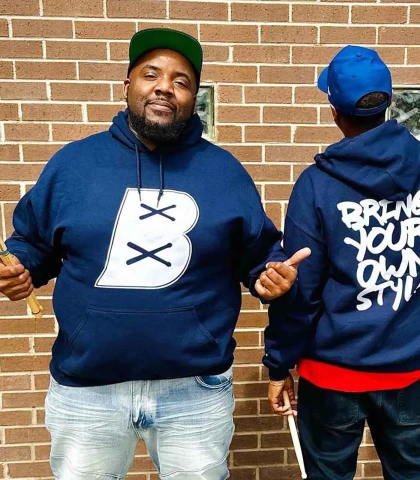 Harvey Thompson (BYOS)
Harvey Thompson is a Brooklyn drummer, composer, and choreographer, and has been one of the most exciting, creative performers in Marching Percussion. His eclectic style has focused on the creative use of rhythm and visuals, navigating the talent that bridges worlds together to build an appreciation for the Arts.
Harvey's roots as a drummer began as a member of Black Fire Percussion in the Jackie Robinson/Brooklyn Steppers Marching Band. It was during those years that he developed a passion for performing, creating, and teaching. In 2006, Harvey moved to Greensboro, NC to become a member of the Cold Steel Drumline in the Blue and Gold Marching Machine at the illustrious North Carolina A&T State University. His outstanding leadership and dynamic musicianship awarded him the opportunity to accept the position of Drumline Instructor in 2007. Writing, teaching, and choreographing show for the Cold Steel Drumline, he's been a part of the Macy's Thanksgiving Day Parade, NBA All-Star Weekend, PASIC, the Tournament of Roses Parade and was the 2014 Honda Battle of the Bands winner. Cold Steel is known as one of the most exciting and precise HBCU show-style drumlines in the nation. The Cold Steel International Drumline has even performed internationally for Eurovision TV. Harvey currently holds the position of Drumline Coordinator at North Carolina A&T.
In addition to the many accomplishments with the North Carolina A&T Cold Steel Drumline and Blue and Gold Marching Machine, Harvey, along with his childhood friend Ralph Nader are the founding members of BYOS, LLC, an Entertainment and Performing Arts duo from Brooklyn, NY. Harvey has toured Europe and South America with the German Reggae/Pop band Seeed and artist Peter Fox. BYOS became a popular YouTube sensation for the Drumming and Performing Arts communities in 2013 and Harvey has posted over 4,000 drumming videos on YouTube, Instagram, and Facebook.
Harvey is currently an international artist for Ludwig Drums, Evans Drumheads, Promark Drumsticks, and Zildjian Cymbals and is active at percussive events, such as PASIC, NAMM, Guitar Center's Drum-Off, and WGI Finals.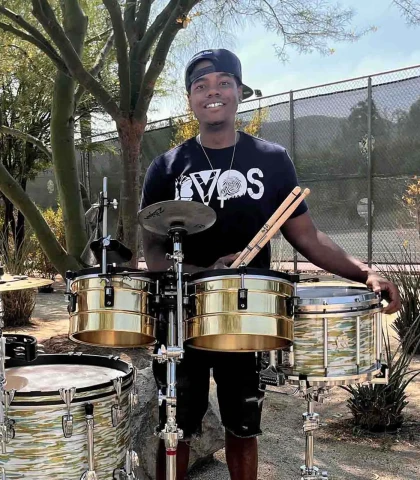 Ralph Nader (BYOS)
Ralph is a percussionist from Brooklyn, NY. Ralph started his performance career in the Jackie Robinson Center "Steppers" Marching Band. Entertaining is his calling, and Ralph does it best with celebrities, sports teams, and stadium events. As a member of Black Fire Percussion, he performed with the NY Knicks and NJ Nets Drumlines during time-outs and halftime performances. While studying at Hampton University, Ralph was a member of the "Marching Force Drumline," but on the football off-season, Ralph performed and competed with the 18-time world champion The Blue Devils Drum and Bugle Corps from Concord, CA. and has a 2-time World Champion gold medal and is a drum title winner.
After graduating from Hampton University, Ralph was westward bound, taking his innovative ideas and drumming flare to Disneyland, where, with a co-creator, the "Soundsational" Parade, Festival of Holidays' Toy Drummers, and Food & Wine Festival's Jammin Chefs as a Musician productions were all born. Ralph's Disney inventiveness and performances sparked European and South American tour opportunities with the German Reggae/Pop band "Seeed." Performing with Seeed gave birth to the performing entity "BYOS."
Another smokin' co-created effort, BYOS has become a social media sensation. BYOS has put Ralph on the radar of Tony Royster Jr. (Jay Z's former drummer), Allen Stone (R&B Soul artist), Travis Barker (Blink-182), and Beyoncé (her Coachella Festival concert) where he has given spellbinding performances with them all! Ralph, too, is an international educator with a ProMark signature marching stick to highlight his popular achievements. Ralph's signature stick is available worldwide and at other local ProMark dealers.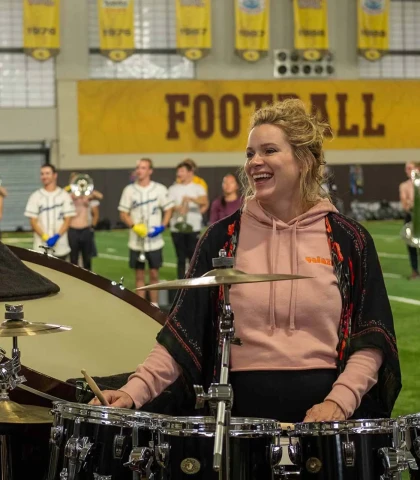 Dani Markham
Dani Markham was born in Louisville, Kentucky, where she began playing percussion at the age of 8 in the Fabulous Leopard Percussionists (now known as the Louisville Leopard Percussionists,) under the direction of Diane Downs. Dani excelled in music during elementary school and began studying privately at 9. While in the Leopards, Dani performed at PASIC for several consecutive years and also took 2nd place in the PAS International Marimba competition in 2003.
In 2000, Dani was featured alongside hip-hop phenomenon Jay-Z's current drummer, Tony Royster, Jr., by the Percussive Marketing Council in their campaign to showcase young drum phenoms. In 2005 she received a full scholarship to the University of Miami where she studied percussion and pursued her interest in Brazilian, Latin, and jazz styles. Her recent collaborations include indie-rock band, Tune-Yards, and Grammy nominee, Childish Gambino. She has appeared on Jimmy Fallon, Conan O'Brien, and Jools Holland, and featured in Modern Drummer and Tom Tom Magazine.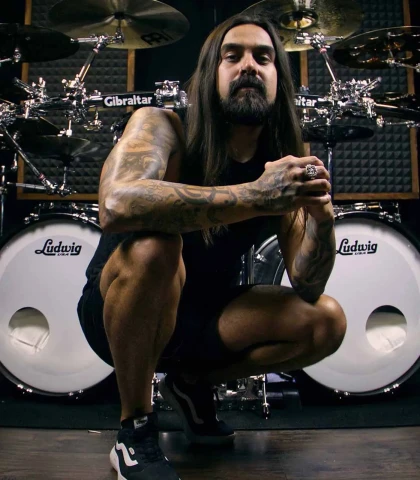 Art Cruz
Hailing from California, U.S. Art Cruz plays drums with metal heavyweights Lamb of God. Originally a fan of the band before rising to prominence as one of the genre's top touring musicians, Art officially joined Lamb of God in 2019, following a stint of filling in during the band's 2018 run of live shows with a whirlwind introduction.
Cruz commands his position with passion, sweat, and expansive dynamics, supporting the band's most recent release 'Omens', his second album with Lamb of God following their self-titled album in 2020. Amongst a vast catalog of sessions work, Art has also played with the likes of Winds of Plague and Prong.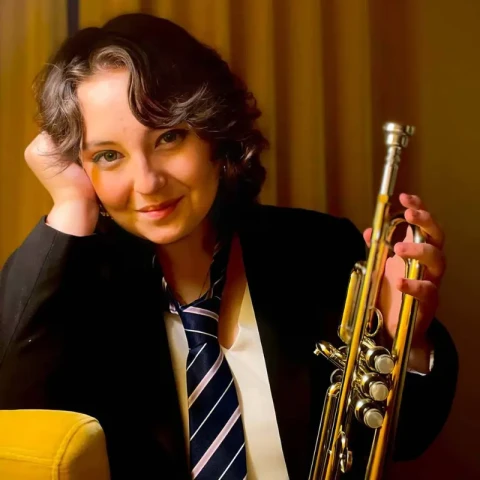 Kellin Hanas
Hailed in the International Trumpet Guild Journal as "one of the best up and coming jazz musicians on the globe", 21 year-old trumpeter and composer Kellin Hanas of Wheaton, Illinois is a Jazz Trumpet BM student at the Manhattan School of Music in New York City, studying under legendary trumpeter Ingrid Jensen (ARTEMIS). Currently, Hanas splits her time between being a full-time student, performing artist, and educator in New York City, touring with celebrities such as Emmy® and Golden Globe®Award Winning Actor Darren Criss, and playing alongside Disney Channel star Garrett Clayton.
She is the leader of her own band, the Kellin Hanas Quintet, which debuted for the first time in the Summer of 2022 upstairs of the iconic Birdland Jazz Club in NYC. She has worked with venues such as Carnegie Hall and Jazz at Lincoln Center and has worked with jazz greats such as Sean Jones, Wycliffe Gordon, and Christian McBride. She also is a regular member of the Grace Fox Big Band, and was a featured soloist on the band's debut album "Eleven-O-Seven".
Recently, Hanas has been touring with the DIVA Jazz Orchestra and the 11x Grammy Award® winning vocal group The Manhattan Transfer. She also joined the DIVA Jazz Orchestra for their 4-night 30th-anniversary run at Dizzy's Club in NYC.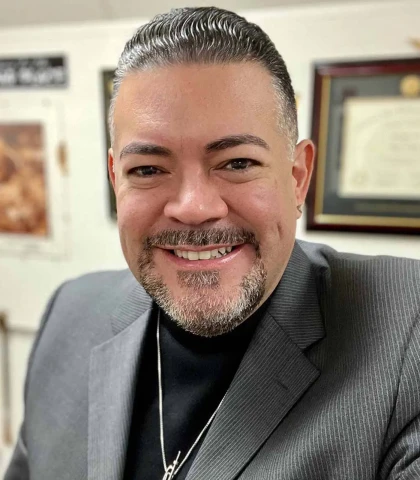 Gary Gopar
Currently chair of the music department at Cypress College, Gary Gopar has been teaching music in southern California and around the United States for fifteen years and is Director of the Cypress College Jazz Big Band. His teaching and coaching experience include his ten years at Cypress College, as well as at Long Beach City College. At the same time, Mr. Gopar is a sought-after musician who has played in a variety of settings from Sublime to Tierra, Al Wilson to Brenton Wood, from the Disneyland Christmas Fantasy Parade to Princess Cruises.
A Bach Brass artist and Trumpet Icon, Professor Gopar plays on a Bb Bach Stradivarius 37S trumpet and currently holds a trumpet chair with the Arturo Sandoval Big Band. Having earned his Bachelor of Arts in Music and Master of Music in Jazz Studies from California State University, Long Beach, Mr. Gopar has traveled throughout Europe, Mexico, and the United States, playing in a wide range of styles.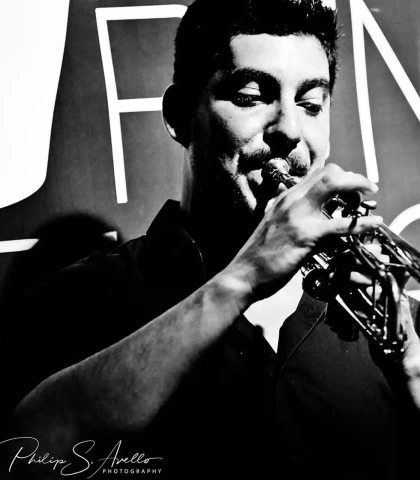 Cisco Dimas
Francisco (Cisco) Dimas has been a faculty member at the Herbert and Nicole Wertheim School of Music and Performing Arts since 2014 as the Professor of Jazz Trumpet and Jazz Arranging. In addition to his teaching responsibilities, Cisco maintains an active and versatile freelance career in South Florida, having performed, toured, and recorded for such artists as Gloria Estefan, Juan Luis Guerra, Third World, Gino Vannelli, Natalie Cole, Linda Ronstadt, Juanes, Sammy Figueroa, and Gonzalo Rubalcaba.
He holds a Bachelor's degree in Studio Music and Jazz, and a Master's Degree in Jazz Pedagogy from the University of Miami's Frost School of Music, and currently tours year-round with KC and the Sunshine Band, where he has been a member since 2014. Born and raised in Albuquerque, New Mexico, Francisco has now become one of the most versatile and in-demand trumpet players in the South Florida area which he now calls home.